Star City Ferret Club
What? A ferret club in Roanoke? Why yes there is!
The Star City Ferret Club...
is a not-for-profit, ferret enthusiasts club. We are dedicated entirely to the domestic ferret, specializing in ferret/human conflict resolution and in educating ferret owners in the valley about the proper care and treatment of ferrets.


Club history & goals
The Star City Ferret Club was formed in 2004 to provide an educational, informational and social environment for Roanoke VA area ferret owners to exchange information about ferret ownership, ferret health care, and other ferret related issues.
We do this by:
* Providing ideas for entertainment and on how to live a more harmonious life with your ferret.
* Working with pet stores on the proper housing & care of ferrets for sale and enlightening them on what would be appropriate food, treat, toys & accessory choices for purchases by their customers.
* Putting out information to surrounding animal control shelters to save lost and abandoned ferrets from being euthanized.
* Supporting the ferret shelter in Roanoke through time, crafts & other donations.
* Providing ferret related information to the general public, pet stores, and potential ferret owners.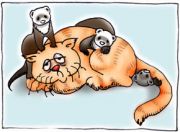 Want to learn more?
Since the closing of Happy's Flea Market & the loss of our meeting venue we've not been able to hold a physical meeting.
Never fear!
We would like to express an open invitation to anyone in the Roanoke area interested in learning more about these remarkable little furry treasures to join us on Facebook now.
Contact us for more information:
Follow us on Facebook: